Cerisy International Symposium: The way of ambiances. The sensory experience of situations
Actualité publiée le 12 juin 2018
---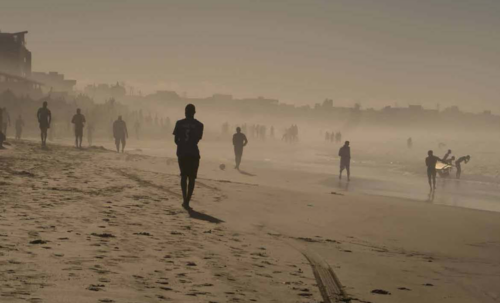 September 4-11, 2018 – Centre Culturel International de Cerisy-la-salle (France)
Sensory atmospheres and ambiances are open to a wide variety of uses, whether in the arts, the urban or the social sciences. How do ambiances contribute to put ordinary situations to the test of the sensory experience? How do they open up new paths in terms of artistic work, methodological experimentation or theoretical exploration? What about a situated socio-aestheticism, mindful of the percepts and affects that pervade our living environments and seep into the contemporary sensitivities?
Such questions will be asked during the symposium, meeting a threefold requirement: on the one hand, special attention will be paid to interactions, mutual contributions and questions between the art world and social sciences. On the other hand, it is necessary to initiate a meeting, to open a new dialogue with the English-speaking thinking on that matter, connecting and questioning the approaches of ambiances and atmospheres. Lastly, the uses of ambiances will be studied through surveys and theories, as well as actual practices and situated experiences. The days of the symposium will be organised as to switch between reflective thinking and concrete experimentations, to share experiences and to question arguments.
To some degree, the use of ambiances leads to experimenting a new symposium structure, between scientific discussion and artistic experimentation. Introduced by PhD students, each day will rotate between communications and debates, interventions and roundtables with aesthetic proposals from young artists, and eventually small performative forms, to wrap up.
Program
Communications (followed by debates):
The way of Ambiances
Didier TALLAGRAND, Jean-Paul THIBAUD & Nicolas TIXIER: Opening
Gonçalo M. TAVARES: Places, bodies, literature [conference-reading]
Urban sensitivities
Nia PERIVOLAROPOULOU & Philippe SIMAY: What forms does modern sensitivity take?
Exchanges prepared and introduced by Céline BONICCO-DONATO
François J. BONNET & Marc BRÉVIGLIERI: What is the future of contemporary sensitivity?
Exchanges prepared and introduced by Anne BOSSÉ
Designating vs Designing Ambiances
Paola VIGANÒ: What a soil can do
Exchanges prepared and introduced by Laurent DEVISME
Andres BOSSHARD, Pierre LAFON, Alexander ROËMER & Daniel SCHLAEPFER: Passages of the sensible
Exchanges prepared and introduced by Pascal AMPHOUX
The challenge of Atmosphere
Olivier LABUSSIÈRE & Derek McCORMACK: Ambiances vs Atmospheres
Exchanges prepared and introduced by Ola SÖDERSTRÖM
Tonino GRIFFERO & Paul SIMPSON: What do you mean by affect?
Exchanges prepared and introduced by Niels ALBERTSEN
Jean-François AUGOYARD & Jean-Pierre PENEAU: Dialogue
New Perspectives on Attunement (recent changes)

Izabela WIECZOREK & Friedling RIEDEL: Some modes of existence of atmospheres
Exchanges prepared and introduced by Damien MASSON
Marc WINZ & Emmanuel DOUTRIAUX: How to sensitize interior space?
Exchanges prepared and introduced by Bruno QUEYSANNE
Media and formats
Pierre-Damien HUYGHE: Secondary forms
Conversation with Jennifer BUYCK and Naïm AÏT SIDHOUM
Noëlle BATT, Thierry MOUILLÉ & Pauline NADRIGNY: Ambiances of thought
Exchanges prepared and introduced by David ZERBIB
Closing
Performed restitution of the "Design & Place" workshop
Resituated dialogue between artists and researchers
Other types of interventions:
Morning Whoosh
PhD students introduce every morning by a testimony of their experience on the field, or about their research.
Ryma HADBI, Gwendoline L'HER, Juste PECIULYTE, Vanessa STASSI, Maïlys TOUSSAINT, Sarah VAN HOLLEBEKE
Sensory Moments
Young artists talk about a place, a situation, an ambiance.
Diane AUBRUN, Léo BAUDY, Dorian DEGOUTTE, Jérémy LANCHON, Quentin LAZZARESCHI, Hedi MESTIRI, Marion RAIMBAULT, Linda SANCHEZ, Florence SCHMITT, Joana TEULE
Small performative forms (recent changes)

Short presentation of a research work and artistic production.
Naïm AÏT SIDHOUM, Jean-Marc CHAPOULIE, Julien CLAUSS, Alexandre COSTANZO, Giuseppe GAVAZZA, Stephen LOYE, as well as a tribute to Jean-Yves PETITEAU in the presence of Bernard RENOUX
« Design & Place » Workshop
Students in the Design & Place Master's degree question the CCIC, its locations, its ambiances and its debates.
Jérémie NICOLAS, Adeline OFFRET, Margaux PINTO, Sonia REYNOSA ALVARADO, Anita SANCHEZ, Lana STEILER, Xu YAN, Xiyuan ZHANG
Author Meet Critics (in addition)
Rainer KAZING and Gretchen SCHILLER will discuss Derek P. McCormack last book « Atmospheric Things » with him
With the support of the Experimental School of Art Annecy Alps, the Graduate School of Architecture of Grenoble, the Ambiances Architectures Urbanités Laboratory (1563 UMR CNRS), the Department of Artistic Creation, the General Directorate of Heritage/ BRAUP, and the International Ambiances Network.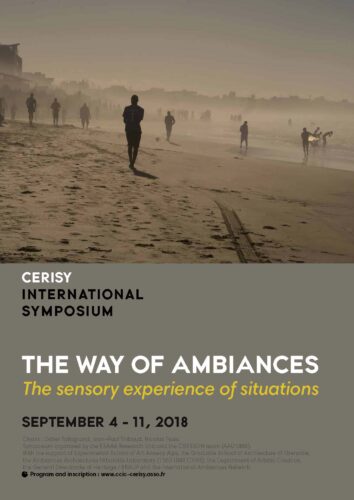 ---
Catégorie : AAU, CRENAU, CRESSON
Tags : Ambiances, Cerisy-La-Salle, sensory atmospheres
---