Nouvelles publications du laboratoire
Actualité publiée le 18 décembre 2020
---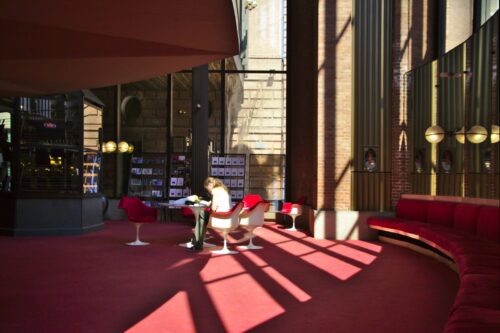 Retrouvez les articles de revues scientifiques, les directions d'ouvrages et les actes, les communications dans un congrès publiés ces derniers mois.
Articles de revues scientifiques
Breviglieri, Marc.
Fertilités. Sur les chemins de collecte des femmes oasiennes (univers végétal, résonateurs cosmiques, soins collectifs).
Anthropologie et Sociétés, Vol.44, N°1, p.25‑52.
En ligne
Gero, John et Milovanovic, Julie.
A framework for studying design thinking through measuring designers' minds, bodies and brains.
Design Science, Vol.6, en ligne. DOI : 10.1017/dsj.2020.15
Shealy, Tripp ; Gero, John ; Hu, Mo et Milovanovic, Julie.
Concept generation techniques change patterns of brain activation during engineering design.
Design Science, Vol.6, en ligne. DOI : 10.1017/dsj.2020.30
Hadbi, Ryma.
Révéler ce qui fait patrimoine pour penser le renouvellement urbain des cités d'habitations à bon marché de Grenoble.
Les Cahiers de la recherche architecturale urbaine et paysagère, N°8. DOI : 10.4000/craup.4606
Leduc, Thomas et Hartwell, Kevin.
The automatic classification of urban open space by a pattern-matching method of the viewshed at intersections.
Environment and Planning B: Urban Analytics and City Science, Vol.47, N°6, p.1065–1080.
DOI : doi.org/10.1177/2399808318816994
Leduc, Thomas et Leduc, Michel.
Minimum-area ellipse bounding an isovist: towards a 2D GIS-based efficient implementation.
International Journal of Geographical Information Science, p.1‑24.
DOI : 10.1080/13658816.2020.1800017
Dardier, Guilhem ; Jabot, Françoise ; L'Her,

Gwendoline

; Servières, Myriam.
A research project on an air quality citizen sensing initiative: CapCi project in Rennes.
Environnement, Risques and Santé, John Libbey Eurotext, 2020 pp.417-422
DOI : 10.1684/ers.2020.1483
Said, Noha Gamal.
Sonic Affordances of a Sacred Spring. The Urban Courtyard as a Figure of Rehabilitation of the Medina.
Journal of Sonic Studies.
En ligne
Semaan, Bernard ; Servières, Myriam ; Moreau, Guillaume et Chebaro, Bilal.
Camera Pose Estimation Using Collaborative Databases and Single Building Image.
Journal of Geographic Information System, Scientific Research Publishing, 2020, 12 (06), pp.620-645.


En ligne

Spur, Maxime ; Tourre, Vincent ; David, Erwann ; Moreau, Guillaume et Le Callet, Patrick.
Exploring Multiple and Coordinated Views for Multilayered Geospatial Data in Virtual Reality.
Information, Vol.11, N°9, p.425. DOI : 10.3390/info11090425
Thibaud, Jean-Paul.
Jean-François Augoyard, an explorer of the sensory world.
Ambiances. Environnement sensible, architecture et espace urbain.
DOI : 10.4000/ambiances.3126
Thiollière, Pascaline.
Au contact de nos morts : ambiances et mises en gestes d'un territoire flou.
Géographie et cultures, N°110.
En ligne
Tsoka, Stella ; Leduc, Thomas et Rodler, Auline.
Assessing the effects of urban street trees on building cooling energy needs: the role of foliage density and planting pattern. Sustainable Cities and Society
en ligne
Direction d'ouvrage(s), actes
Legois, Jean-Philippe et Violeau, Jean-Louis.
Institution universitaire et mouvements étudiants : entre intégration et rupture.
Paris : L'Harmattan. 280 p.
Communications dans un congrès
Ambrosino, Charles ; Gangloff, Emmanuelle et Morteau, Hélène.
De  la  friche à la ville ou l'art de permacultiver les innovations urbaines : un jeu à la nantaise ?
5e colloque international du CIST « Population, Temps, Territoires », Campus Condorcet, Paris-Aubervilliers, 18-20 novembre 2020. en visio conférence.
En ligne
Aymard, Diane.
Apprendre à projeter sur un terrain étranger ? La pratique opérationnelle en Guadeloupe.
Construire le paysage, entre pratique et recherche. Actes du colloque international L'architecture en milieu tropical : construire le paysage. Entre pratique et recherche » le 30 et 31 octobre 2019 à La Réunion, p.218‑231.
ENSA-La-Réunion : Éditions de l'Espérou.
En ligne
Bataille, Nicolas.
L'ingénierie urbaine entre public et privé pour une action publique flexible ? La délégation au privé en question.
In Colloque Future Days 2020 : Politique Politiques publiques et sciences pour les territoires urbains, 1-3 décembre 2020, organisé par l'Université Gustave Eiffel. Journées digitalisées.
En ligne
Bataille, Nicolas ; Leonardi, Cécile ; Gatta, Federica ; Garcia, Pierre-Olivier ; Manola, Théa ; Tallec, Josselin et Tribout, Silvère.
Réinventer une politique participative en contexte d'austérité : retour sur un Appel à Projet Urbain Innovant à Grenoble.
Colloque Future Days 2020 : Politiques publiques et sciences pour les territoires urbains, du 1er au 3 décembre 2020,   Université Gustave Eiffel, Campus de Marne-la-Vallée. Journées digitalisées.
En ligne
Bataille Nicolas.
Dans l'ombre de la décision : les fonctions multiples des rapports d'études dans la délégation marchande de l'expertise en politiques urbaines.
Revue internationale de politique comparée, Vol. 26, p. 83-107.


En ligne
Bienvenu, Gilles.
L'appartement au xviie siècle, entre traités d'architecture et réalité.
Trésors partagés. Les décors peints de Goulaine, p.55‑79. Nantes : Plessis- Art3 Editions.
Colin, Florie.
De la condition habitante à la vision administrative du pays de Brest. Un décalage entre les territoires administratif et vécu, pratiqué, habité ?
Métropoles, villes intermédiaires, espaces ruraux, p.193‑2014. Clermont-Ferrand : Presses Universitaires Blaise Pascal.
En-Nejjari, Maroua.
The Urban Spontaneous Beach, an Idle Ambiance in the Urban Space.
In Ambiances, Alloæsthesia: Senses, Inventions, Worlds : 4th International Congress on Ambiances : December 2-4, 2020.
e-conference.
Houel, Nicolas ; Lescop, Laurent ; Joly, Dany.
Public lighting and participatory democracy, the contribution of public transport drivers in Nantes Métropole to the evaluation of nocturnal urban ambiances in Nantes.
In ICNS Proceedings 1st International Conference on Night Studies, Lisbonne, pp.185-202.
En ligne
Lescop, Laurent et Charmel, Olivier.
VR,photogrammetry and drawing over : envisioning the city of the future.
In "The architect and the city" : EAAE-ARCC International Conference & 2nd Valencia International Biennial of Research in Architecture  | VIBRArch, Polytechnic University of Valencia, Valencia, Spain,  11 – 14 Nov 2020. Valencia, Espagne (en distanciel).
En ligne
Lescop, Laurent et Suner, Bruno.
Designing intradiegetic and extradiegetic spaces for Virtual Reality.
In eCAADe2020 : Anthropologic – Architecture and Fabrication in the cognitive age : proceedings of the 38th eCAADe Conference on education and research in computer aided architectural design in EuropeeCAADe2020 : Anthropologic – Architecture and Fabrication in the cognitive age … from smart to behavioral … from digital to material, hosted online by the Institute of Architecture of Technical University Berlin, Berlin -Wednesday 16 – Friday 18 September 2020, p.545‑554. Berlin (en distanciel)
En ligne
Polack, J-D ; Manola, Théa ; Geisler, E ; Gourlot, N. ; Perez-Munoz, A et Tribout, S. (2020).
Crossing Professional Habits for Global Analysis of Urban Soundscapes.
In Internoise 2020, 23-26 aout. Séoul.
Thiaville, Elsa ; Normand, Jean-Marie ; Kenny Joe et Ventresque, Anthony.
Virtual Avatars as Children Companions. For a VR-based Educational Platform: How Should They Look Like?.
In ICAT-EGVE 2020 – International Conference on Artificial Reality and Telexistence and Eurographics Symposium on Virtual Environments, Dec 2020, Orlando, Florida, United States.
En ligne
Peillard, Etienne ; Itoh, Yuta ; Normand, Jean-Marie ; Argelaguet Sanz, Ferran ; Moreau, Guillaume et Lécuyer, Anatole.
Can Retinal Projection Displays Improve Spatial Perception in Augmented Reality?
In ISMAR 2020 – 19th IEEE International Symposium on Mixed and Augmented Reality, November 9-13, p.124‑133. Recife (Brésil)
(en distanciel)
DOI : 10.1109/ISMAR50242.2020.00028
Rodler, Auline ; Bernard, Jérémy ; Morille, Benjamin ; Bodénan, Philippe ; Guernouti, Sihem et Musy, Marjorie.
CoolParks : aide à la conception de parcs et de formes urbaines pour optimiser le rafraîchissement urbain.
In Changement climatique et territoires, actes du XXXIIIème Colloque de l'Association Internationale de Climatologie, Rennes, 2020, p.595‑600. Rennes : Université Rennes 2.
En ligne
Spur, Maxime ; Houel, Nicolas et Tourre, Vincent.
Visualizing multilayered geospatial data in virtual reality to assess public lighting.
ISPRS Archives – International Archives of the Photogrammetry, Remote Sensing and Spatial Information Sciences,
Vol.XLIII-B4-2020, p.623‑630. DOI : 10.5194/isprs-archives-XLIII-B4-2020-623-2020
Voir l'ensemble des publications du laboratoire AAU sur

HAL
---
Catégorie : AAU, CRENAU, CRESSON
Tags : actes, congrès, ouvrages, Publications, revues scientifiques
---