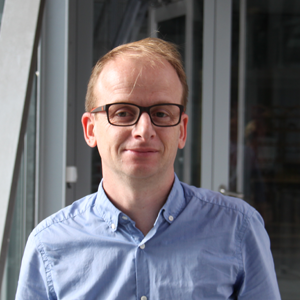 ---
Biographie
Ingénieur en Génie Mathématique (INSA Rouen, 1994), titulaire d'un DEA de « Mathématique Appliquée : Analyse et Modèle Stochastique » (Rouen, 1994) et d'un Doctorat d'informatique de l'Université Pierre et Marie Curie (Paris 6, 1999), qualifié aux fonctions de Maître de Conférences en 27e section du CNU en 2000, T. Leduc a été directeur du CRENAU de sa création en janvier 2015 jusqu'en janvier 2019 et directeur adjoint de l'UMR AAU de janvier 2014 à janvier 2019.
Il contribue à plusieurs titres à la production de recherche du laboratoire en :
co-encadrant des doctorats (Benjamin Beaucamp, Arnaud Tournier, H. Belgacem, R. Hamaina) et des mémoires de Master 2
participant à divers projets de recherche (Data Marchabilité, les ANR Coolscapes, Merubbi,  Urbasis, Eval-PDU, etc.)
organisant ou participant à l'organisation d'événements scientifiques tels que la 8e édition du Séminaire de Conception Architecturale Numérique SCAN'18, l'école thématique CNRS Vu-pas-vu-2017, la conférence de clôture « 3u3d2012: Usage, Usability, and Utility of 3D City models » de l'Action européenne COST TU0801, les journées SOLENE 2013, 2014 , 2015 et 2016, etc.
animant et participant au groupe de recherche : Visualisation, Visibilité, Vision – Médiation numérique du rapport visuel à la ville.
---
Autres responsabilités
Membre du Conseil de l'Ecole Doctorale SPI depuis 2017
Membre élu du Conseil Pédagogique et Scientifique et membre de la Commission de la Recherche de l'École Nationale Supérieure d'Architecture de Nantes depuis septembre 2018
Personnalité qualifiée membre du Conseil Scientifique de l'ENSA Bretagne de décembre 2015 à octobre 2018
Personnalité qualifiée membre du Conseil Scientifique de l'Ecole de Design Nantes Atlantique depuis novembre 2015
Membre du Conseil de l'UMR CNRS 1563 depuis septembre 2012
---

Article dans une revue
---
N°spécial de revue/special issue
Thomas Leduc, Francis Miguet. SHS Web of Conferences - Proceedings SCAN'18 – 8e Séminaire de Conception Architecturale Numérique : immersion - émersion et conception de projets architecturaux et urbains. Thomas Leduc; Francis Miguet. SCAN'18 – 8e Séminaire de Conception Architecturale Numérique, Oct 2018, Nantes, France. SHS Web of Conferences, 47, EDP Sciences, 2018, 978-2-7598-9056-9. ⟨hal-01913383⟩
---
Communication dans un congrès
---
Proceedings/Recueil des communications
Thomas Leduc, Guillaume Moreau, Roland Billen. Usage, Usability, and Utility of 3D City Models – European COST Action TU0801. 3u3d2012: Usage, Usability, and Utility of 3D City models, Oct 2012, Nantes, France. EDP Sciences, 2012, 978-2-7598-0798-7. ⟨hal-01347580⟩
---
Chapitre d'ouvrage
---
Ouvrages
R Billen, A.-F Cutting-Decelle, O Marina, J.-P de Almeida, Matteo Caglioni, et al.. 3D City Models and urban information: Current issues and perspectives – European COST Action TU0801. EDP Sciences, pp.118, 2014, 978-2-7598-1153-3. ⟨10.1051/TU0801/201400001⟩. ⟨hal-01347549⟩
---
Pré-publication, Document de travail
Philippe Woloszyn, Sandrine Depeau, Thomas Leduc, Frédéric Luckel, Arnaud Piombini. Vers un modèle de décision environnementale de la mobilité douce - application aux parcours piétonniers en milieu urbain. 2010. ⟨hal-00486914v2⟩
---
Rapport
Valerio Signorelli, Thomas Leduc. Utilisation du socle 3D CityGML Nantes - Secteur centre-ville. [Rapport Technique] UMR CNRS 1563 AAU / CRENAU. 2015. ⟨hal-01359642⟩
---
Cours
Thomas Leduc. Atelier SAGEO 2021 : Traitements spatiaux avec le plugin Python t4gpd dans le contexte d'un Jupyter Notebook. École thématique. La Rochelle, France. 2021. ⟨hal-03262455⟩
---
Logiciel
---
---
---