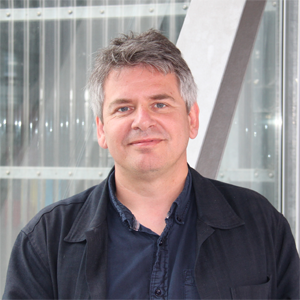 ---
Biographie
Laurent Lescop is an architect, a doctor in sciences with habilitation and is a professor at the Nantes' Superior School of Architecture (ENSA Nantes) and researcher at AAU – UMR|CNRS 1563.
He has worked ten years as an architect and is specialized into CG graphics and immersion.
He's a trained specialist for 3D scanning, modelling and restitution in the fields of archaeology, architecture and scenography.
His main teaching and research refer to immersion and immersive devices used for design and visualization.
---
Enseignements
Licence :
Sciences et techniques
Culture numérique
Les outils de la représentation 3D
Master
Enseignement projet
Architectures en représentation avec Pascal Joanne et Bruno Suner
Enseignements thématiques
Architecture en représentation : conception narrative, muséographie, scénographie urbaine, décor cinéma, mondes virtuels
Algo Archi : conception paramétrique avec Francis Miguet
Conception Lumière avec Bruno Suner
Springschool – Harbour cities Workshop avec Pascal Joanne et Bruno Suner
---
Responsabilités
Président CPS Recherche à l'ENSA Nantes
---

Article dans une revue
---
Communication dans un congrès
---
Poster de conférence
Myriam Servières, Daniel Siret, Laurent Lescop. Mobile Devices for Multimodal Comunication and Instrumented Collaboration in Urban Design. Digital Intelligence, 2014, Unknown, Unknown Region. 2014. ⟨hal-01521553⟩
---
Chapitre d'ouvrage
---
Ouvrages
Laurent Lescop, Sylvain Durand. Regards sur un mystère, le cairn de Gavrinis. 2018. ⟨hal-01811622⟩
---
Autre publication scientifique
Stephane Francois, Jean-Loïc Le Quellec, Laurent Lescop. Ancient Aliens, des « documentaires » entre extraterrestres et conspirationnisme. 2017, pp.69-89. ⟨hal-01883996⟩
Laurent Lescop, Juan Eduardo Chica, Victoria Mena, Diego Garay, Benoit Moreira, et al.. Empreintes de Los Mártires. 2017. ⟨hal-01612789⟩
Laurent Lescop, Bernd Dahlgrün. Paysage de lumière. 2016. ⟨hal-01598923⟩
---
Pré-publication, Document de travail
---
Rapport
---
HDR
Laurent Lescop. Livret 1 : Ambiance et conception : Aspects théoriques et référentiels Livret 2 : Ambiance et conception : Cahier méthodologique et technique. Architecture, aménagement de l'espace. L'UNAM, L'université Nantes, Angers, Le Mans, 2016. ⟨tel-01499668⟩
---
---
---