The opening of CORAULIS to Research: the perception of architectural and urban Ambiances in Virtual Reality
Actualité publiée le 15 novembre 2021
---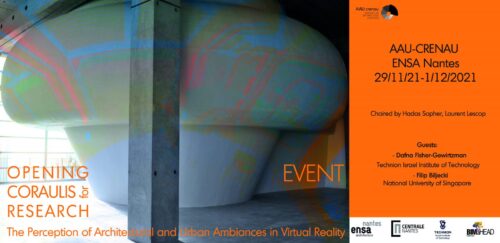 For the visit of Dafna Fisher-Gewirtzman from Technion Israel Institute of Technology, the laboratory AAU-CRENAU organizes 2 days of exchanges (29-30 november) with researchers and PhD students on the topic of the perception of architectural and urban ambiances in Virtual Reality.
During this event, AAU CRENAU will also welcome Filip Biljecki from the National University of Singapore, head of geoinformation team.
Developments in digital and VR systems open new trajectories of research and education, able to address how these technologies can improve architectural environments and the ways we explore, study and teach architectural contexts.
The opening of the CORAULIS Observation Center in Augmented Reality and Sound Immersion Site signifies the opportunity to discuss these trajectories in greater detail and start new research pathways. We aim to discuss and explore state-of-the-art research and methods held in digital and VR systems.
Topics include:
VR, AR, MR & Visualization
VR, AR, MR & Education
Analytical tools, Spatial Analysis
Computational tools & Social factors
Collaboration & Participation.
Information: Hadas Sopher, Laurent Lescop
---
Catégorie : AAU, CRENAU
Tags : Architectural and Urban Ambiances, Architectural design, Collaboration, education, National University of Singapore, Technion Israel Institute of Technology, Virtual Reality (VR)
---