Summer School « Experiencing Nantes. A psycho-Architectural approach to Urban design »
Actualité publiée le 14 juin 2022
---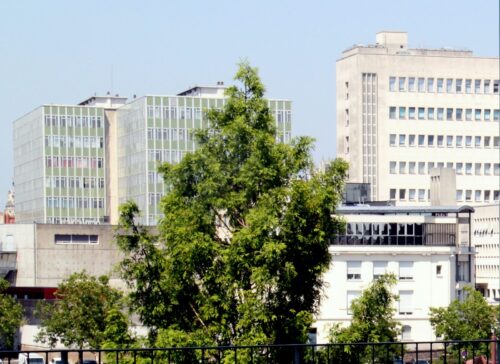 ENSA Nantes and the AAU-CRENAU laboratory host Barbara Piga (Politecnico di Milano) and Marco Boffi (Università degli Studi di Milano) from June 20 to 25, 2022, for the summer school they are organizing:
EXPERIENCING NANTES. A PSYCHO-ARCHITECTURAL APPROACH TO URBAN DESIGN.
This Erasmus+ project is linked to the European project « EIT Digital  » AR4CUP: Augmented Reality for Collaborative Urban Planning ».
During this Summer School, experiential walks in the city of Nantes will be organized with students from ENSA Nantes, Università Degli Studi di Milano, Politecnico di Milano and the University of Thessaly.
The aim is to explore the urban sensory experience with traditional and innovative methodologies.
Indeed, the international workshop offers an innovative and interdisciplinary perspective on theoretical and methodological aspects, in the field of urban simulation and urban design. It focuses on the contribution of architecture, informatics, and psychology to the development of places conjugating human wellbeing and environmental sustainability. The notion of human-centered design explored here considers subjective emotional, cognitive, behavioral, and sensory aspects to describe the relationship of people with the environment.
The summer school will focus on the analysis of the area surrounding the University Hospital of Nantes, one of the most relevant future transformation sites in the city of Nantes. Participants will explore the area following 4 different urban paths and assess different spots using the City Sense application. The same paths will be followed with the microclimatic cart developed for the Coolscapes project, which will allow a comparison of the environmental and emotional reactions. The exploration will be done at different times of the day and in various sensory conditions, for example, excluding sight, with augmented sounds.
Maps and design proposals can be shared with public and private actors (city of Nantes, hospital…).
Partners and tutors:
Università degli Studi di Milano : Marco Boffi ;
Politecnico di Milano, DAStU, Laboratorio di Simulazione Urbana Fausto Curti : Barbara Piga, Gabriele Stancato ;
CRENAU Laboratory, ENSA Nantes: Ignacio Requena, Thomas Leduc, Angèle Pillot, Myriam Servières, Vincent Tourre ;
University of Thessaly (GR): Nicolas Remy, Aris Tsangrassoulis.
---
Catégorie : AAU, CRENAU
Tags : Architectural and Urban Ambiances, Experiental walk, International, Nantes, Psycho-architectural approach, Summer school, Urban Design
---